Men's Industrial Stripe Work Shirt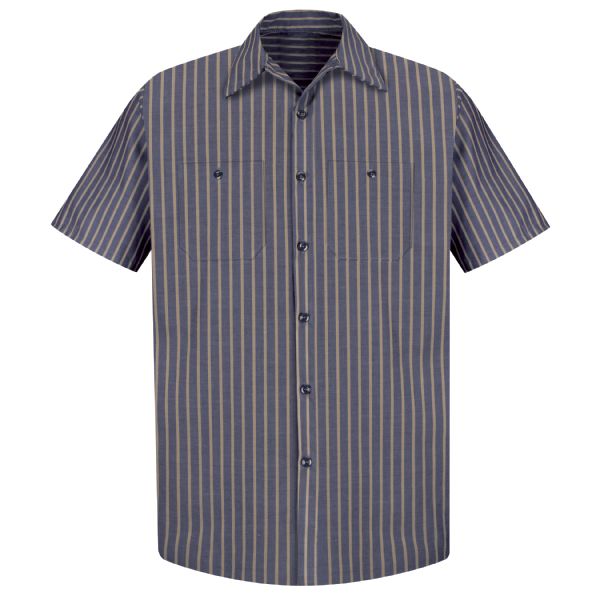 Be the first to rate this product!
Sleek stripes and a lined collar add style to a job done right. With our reliable Touchtex™ technology, color retention, wickable finish and soil release, the yarn dye stripes stay fresh and bold - just the way you like it.
Blend: 65% Polyester / 35% Cotton
Care: Industrial Wash, Light Soil, or Home Wash
Closure: Seven-button front, including button at neck
Collar: Two-piece, lined, sewn-in stays
Fabric: 4.25 oz. Poplin, Mock Oxford, and Broadcloth
Facing: Stitched-down front
Finish: Pre-cure durable press with soil release and wickable finish
Pocket: Two button-thru, hex-style pockets with angled bartacks, bartacked pencil stall on left pocket
Click here for fit chart
SHORT SLEEVE POPLIN
SS
SSL
Grey/Blue Stripe

(SP24EX)

S-5XL
M-5XL
Light Blue/Navy Stripe

(SP20BB)

S-6XL
L-3XL
GM Blue/White Stripe

(SP20BW)

S-6XL
M-5XL
White/Charcoal Stripe

(SP20CW)

S-6XL
M-5XL
Charcoal with Blue/White Stripe

(SP20GI)

S-4XL
L-4XL
Green/Khaki Stripe

(SP20GK)

S-4XL
L-2XL
White/Green Stripe

(SP20GW)

S-5XL
L-4XL
Blue with Brown/White Stripe

(SP20IC)

S-4XL
Navy/Red Stripe

(SP24RN)

S-6XL
L-2XL
Charcoal/Red/White Stripe

(SP24CR)

S-4XL
Navy/Khaki Stripe

(SP24KN)

S-4XL
L-2XL
White/Brown Stripe

(SP20WT)

S-4XL
SHORT SLEEVE BROADCLOTH
SS
SSL
Petrol Blue/Navy Stripe

(SB22BS)

S-6XL
L-3XL
LONG SLEEVE POPLIN
RG
LN
Navy/Red Stripe

(SP14RN)

S-6XL
M-3XL
Light Blue/Navy Stripe

(SP10BB)

S-6XL
M-3XL
GM Blue/White Stripe

(SP10BW)

S-6XL
M-4XL
White/Charcoal Stripe

(SP10CW)

S-6XL
M-3XL
Charcoal with Blue/White Stripe

(SP10GI)

S-4XL
M-3XL
Green/Khaki Stripe

(SP10GK)

S-4XL
L-3XL
Blue with Brown/White Stripe

(SP10IC)

S-4XL
L-XL
White/Brown Stripe

(SP10WT)

S-4XL
L-2XL
Charcoal/Red/White Stripe

(SP14CR)

S-4XL
L-2XL
Grey/Blue Stripe

(SP14EX)

S-5XL
M-5XL
Navy/Khaki Stripe

(SP14KN)

S-4XL
M-3XL
White/Green Stripe

(SP10GW)

S-4XL
M-4XL
LONG SLEEVE MOCK OXFORD
RG
LN
Blue/White Stripe

(SL10WB)

S-6XL
M-4XL
SHORT SLEEVE MOCK OXFORD
SS
SSL
Blue/White Stripe

(SL20WB)

S-6XL
M-5XL
LONG SLEEVE BROADCLOTH
RG
LN
Petrol Blue/Navy Stripe

(SB12BS)

S-6XL
M-5XL