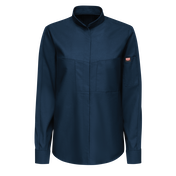 Women's Long Sleeve Performance Pro+ Work Shirt with OilBlok + MIMIX®
Women's Long Sleeve Performance Pro+ Work Shirt with OilBlok + MIMIX®
Select Styles for Availability
Details
The back mesh flex panel and underarm gussets enhance appearance and improve mobility and breathability. Ripstop is lightweight but ultra-durable and offers superior color retention, plus soil release while wicking sweat away from the body during sweaty shifts. Covered snaps keep paint jobs protected and offer a professional appearance.
Fabric

Body: 4.2 oz.
Flex Panels: 4.2 oz.


Blend

Body: 65% Polyester / 35% Cotton
Flex Panels: 100% Polyester


Country Origin

Imported of Fabric Made in USA

Care Instructions

Machine Wash Warm.

Do Not Bleach.

Tumble Dry Medium.

Iron Medium Heat.

Do Not Dry Clean.
Product Features
Exclusive OilBlok Technology repels the toughest auto fluids, including oil, keeping shirts looking newer for longer
Exclusive Ripstop Fabric is lightweight and breathable but 75% stronger than common workwear fabrics
Mesh flex panels offer increased mobility
Underarm mesh gussets deliver increased range of motion and breathable comfort
Covered snaps keep paint jobs protected - part of the ZeroSkratch collection of worry-free workwear
Scooped hem provides maximum coverage while maintaining a professional look when tucked in or left out
Science-inspired, patented MIMIX® design for enhanced mobility
US PAT. NO. 10,085,490
Industrial laundry friendly
Stop oil in its tracks. Our OilBlok technology kicks the shop's toughest fluids without interrupting your flow. Just dab 'n go.
BACK STRETCH
PANEL WITH
MIMIX™
Our patent back stretch panel with MIMIX™ is designed so that it can flex on the job and provide added breathability when you need it most.
Keep the airflow where you need it most. Right in the pits. No more sweat. No more problem.
Who needs short sleeves when you've got the easiest, breeziest sleeves in the business.
Nix the neck sweat with comfort that meets pure racing style. Never feel hot under collar again.
Comfortably hold gear like your phone and your favorite 10mm close to the chest with extra durable, extra wide chest pockets that don't rip, sag, or warp.
Don't waste time looking for easy-to-lose tools. Keep your pens and tire gauges right where you need 'em while you're deep in an engine or under the gun.
Lean into your work without worrying about the merchandise. Our ZeroSkratch snaps will keep your uniform secure and everything else protected.