6 Tips for Improving Customer Service in the Auto Repair Industry
6 Tips for Improving Customer Service in the Auto Repair Industry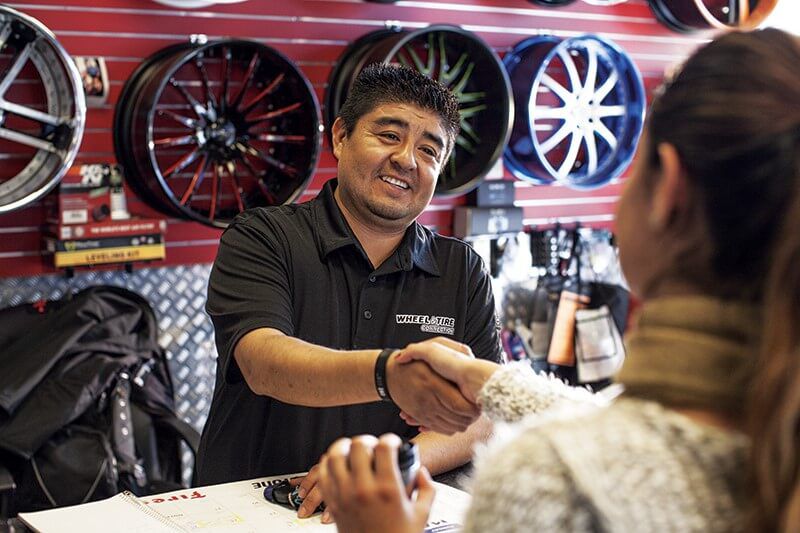 When it comes to automotive customer satisfaction, it's not just about the quality of the repair you do. It's about the service you provide customers from the moment they walk in the door to the moment you hand them back their keys.
In the Future of Automotive Retail Survey, most consumers said they were more influenced by their car repair experience than their car buying experience. Apart from making customers happy, great customer service can result in:
• Customers who trust your business
• Better online reviews and more social media mentions
• Repeat business and referrals
To improve service at your shop and gain customers in the automotive repair business, keep these six tips in mind:
1. Make a great first impression: Automotive customers who come into your shop with car problems are typically not thrilled to be there. They might be stressed, frustrated, or in a hurry to get their car back on the road. Put them at ease by greeting them with a smile and a friendly tone and ask them how you can help.
You should treat your customers like you would a friend, helping them relax by being patient and empathetic. Don't make them wait to be greeted and make them feel comfortable by keeping the lobby clean and tidy.
2. Be an active listener: Some customers may want to explain every weird noise or vehicle action in detail. Although you may not want to, take the time to listen to them. Not only can the customer possibly clue you into what the problem is, but you make the customer feel heard, respected, and validated in the process.
Make sure to look each customer in the eye while presenting positive body language to convey you're listening and understanding, like a head nod. When you respond, summarize their questions or concerns during your answer to demonstrate you've listened to them and understand what they're saying.
3. Appear professional: Physical appearance can impact the way you do your job and how customers view you. According to "Inc.," apparel matters because our brains process information through "thin-slicing." Thin-slicing is taking in details and making quick judgements because of them.
Make sure you and your team are dressed in professional auto repair uniforms when on the clock. They provide your crew with a sense of cohesion and let your customers know you take the job seriously.
4. Explain in layman's terms: Modern cars are complicated, do your best not to confuse your customer. After a diagnosis, explain the problem in terms your customer will understand without speaking down to them. Today's consumers are quick to spot a scam, so don't try to use a bunch of big words to confuse them into buying something they don't need.
Clearly and concisely describe what repairs are needed while explaining the process to complete each repair. Remember, most people don't have money to throw at car repairs so make sure you walk customers through options at different price points. If the customer is on the fence about the repairs, you might also want to explain what may happen if the problem is not fixed.
5. Communicate: Many people rely on their vehicle to go about their daily lives. When their vehicle is out of commission, they deserve to know when it will be back up and running. This means they should receive an accurate estimate of the time the job will take before they leave their car with you along with updates throughout the process.
Whatever form of communication channels you use, make sure someone is available to respond in case a customer has a question. It's smart to set up notifications so someone on your team can get back to customer messages quickly. A report by Convince & Convert found 42% of customers contacting a brand on social media expect a response within 60 minutes.
6. Pay attention to feedback: One easy way to improve customer service at auto repair shops is to pay attention to what customers are saying. Not all your customers will go directly to you with feedback. Be sure to monitor reviews on sites like Facebook, Google My Business, or Yelp and share them with your team so they can improve on customer service.
Responding to reviews should be part of your customer service strategy, too. A great response can turn a customer you lost into one who comes back. In some cases, the angry reviewer will even remove or edit their bad review after you reach out to them. Plus, Google says responding to reviews can have a positive impact on your shop's local search results.
Make Customer Service a Priority at Your Auto Repair Shop
The auto repair industry is just as much about people as it is about vehicles. Make a great first impression with a friendly greeting and professional attire. Listen to clients and explain repairs in terms they'll understand. Be proactive with communication and keep an eye on how customers are talking about you online. Use these tips to make everyone on your team a customer service expert and create customers for life.
For more information on outfitting your team in innovative, professional automotive uniforms, take a look at our automotive uniforms page or contact us directly.