Top 8 Features Automotive Technicians Look for in Workwear
Top 8 Features Automotive Technicians Look for in Workwear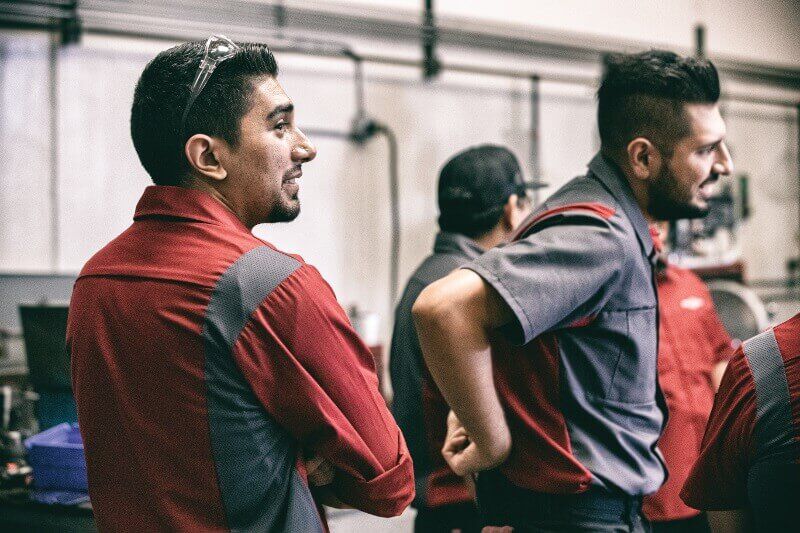 What your employees wear can have a big impact on their job performance, especially in the auto repair industry. If they're uncomfortable or can't move around freely, they won't be as productive. If their workwear isn't durable, they may have to worry about things that could distract them from the job at hand.
High-quality automotive uniforms can improve the focus, confidence, and professionalism of your technicians. According to "Scientific American," studies have confirmed that the clothes you wear affect your physical and mental performance. If you're looking to outfit your team in new uniforms, look for these top eight qualities:
1. Durable & Breathable Fabric: Garages can get hot, so it's important to have lightweight workwear with ventilation features and sweat-wicking fabrics to help keep your technicians cool and working at peak performance for longer. Find workwear with fabric such as ripstop that is both durable to avoid any rips or tears.
2. Liquid repellence: Garage fluids, like motor oil, can stain and damage workwear when spilled. Workwear with liquid or oil-repellent fabric helps to keep a variety of fluids from penetrating fabric, helping keep stains at bay and keeping shirts looking newer for longer.
3. Functionality: Pockets, pockets, pockets. Workwear that has room to keep tools of the trade handy, means your techs will be able to get jobs done more quickly because they'll spend less time looking for what they need.
4. Comfort & flexibility: Your auto repair technicians find themselves in all kinds of contortionist-like positions throughout the day. Whether reaching, bending or squatting, mechanics need flexible workwear that moves with them, without ripping or constricting. Look for features like stretch panels or flex waistbands for enhanced range of motion.
5. Designed for the garage: Working in a garage comes with its own set of challenges and obstacles. Auto repair uniforms need to be designed to accommodate those challenges. That means pants fit over work boots and strategically placed seams allow for full range of motion.
6. Professional style: Professional car mechanic uniforms send the right message to your customers. You'll want workwear that fits well and looks neat and stylish so that everyone on your crew is enhancing your brand image. Also, look for wrinkle-resistant finishes so your techs won't have to spend time ironing.
7. Scratch free: Whether your technicians are working on classics with high-dollar paint jobs or 10-year-old minivans, they need to protect every vehicle from damage. The problem is, most workwear has exposed buttons or zippers that can cause scratches when working closely with cars. To avoid this, you'll want to look for technician uniforms that have covered buttons or closures.
8. Stain release: To keep costs low and uniforms looking pristine, mechanics need to be able to wash out stains and dirt the first time, every time. Much like liquid repellent technology, you'll want uniforms with fabric that can easily let go of stains and dirt in the wash. This eliminates the need for extra washes and keeps your team looking clean.
Dress for Success
Don't let your team uniforms be an afterthought. Workwear needs to perform on the job and look sharp to customers. Look for features like ventilation, functionality, comfort, flexibility, professional style, and liquid repellence for the best uniforms for your auto repair technicians. Red Kap is a leader in the design and manufacturing of workwear and uniforms for the automotive industry. You can learn more by taking a look at our line of specially-designed automotive workwear or by contacting us directly.