VISIBILITY STANDARDS GUIDE
Our guide to understanding visibility standards and apparel will help ensure your team is following ANSI standards.
HI-VISIBILITY CLOTHING: UNDERSTANDING ANSI WORKWEAR CLASSES & FEDERAL REGULATIONS
What is ANSI/ISEA 107?

What is Federal Regulation 23 CFR 634 for worker visibility?

ANSI Garment Classifications
Hi-visibility clothing and workwear can be the difference between life and death for those in the transportation or construction industries. Employees working near traffic or moving construction equipment are at great risk of injury simply because they cannot easily be seen. Use the following hi-vis workwear information to ensure your team is following ANSI/ISEA 107 standards by wearing the proper high visibility garments to improve their safety and visibility while on the clock.
The American National Standard for High-Visibility Safety Apparel and Headwear (ANSI/ISEA 107- 2010) is a standard established by American National Standards Institute for protection of construction, maintenance, utility, emergency responders, airport ramp personnel and other workers who are routinely exposed to the hazards of low visibility while on the job. Private industry, various federal, state, and local authorities have embraced ANSI/ISEA 107 compliant garments and headwear as useful PPE for workers exposed to struck-by-hazards.
This standard provides guidelines for the selection and use of high visibility safety apparel such as shirts, rainwear, outerwear, safety vests and headwear to improve worker visibility during the day, in low-light conditions and at night.
The ANSI/ISEA 107-2010 standard is the latest U.S. standard for the design and performance of materials for high-visibility safety apparel.
ANSI/ISEA 107-2010 SPECIFIES THE FOLLOWING CRITERIA FOR HI-VIS CLOTHING MUST BE MET:
Design

Requirements for Background and Combined-Performance Retroreflective materials

Photometric and Physical Performance Requirements for Retro-reflective materials

Care labeling
WHAT IS FEDERAL REGULATION 23 CFR 634 FOR WORKER VISIBILITY?
Federal Regulation 23 CFR Part 634 Worker Visibility states that all workers within the right-of-way of a Federal-aid highway who are exposed to traffic or to construction equipment within the work area shall wear High-Visibility apparel that must meet Performance Class 2 or Class 3 requirements of ANSI/ISEA 107-2004. The regulation was passed on November 18, 2006 and took effect on November 24, 2008.
On December 16, 2009, 23 CFR Part 634 was revised, and the 2009 Manual on Uniform Traffic Control Devices (MUTCD) was released.
This revision of the rule states that mandatory use areas are expanded beyond Federal-aid highways and will require all workers on or near the roadway right-of-way to wear hi vis safety apparel that meets performance Class 2 or Class 3 of ANSI 107-2004 or equivalent revisions (ANSI 107-2010).
The amount of background and reflective material remains unchanged for all 107 Classes. However, a Class 1 or a Class 2 garment must now have reflective material in the shoulder area. The objective of this change was to provide greater visibility when a worker is bending over, or at angles that could be potentially missed on a garment without "vertical" reflective material over the shoulders.
UNDERSTANDING ANSI GARMENT CLASSIFICATIONS
ANSI/ISEA 107-2010 Compliant Safety Garments for hi-vis are classified as follows: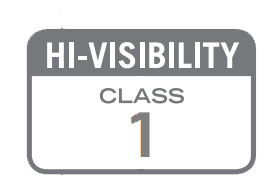 CLASS 1 GARMENTS
ANSI Class 1 garments offer the least amount of hi-visibility performance. This class of hi-vis workwear is intended for use in situations where vehicle or construction equipment does not exceed more than 25 mph or where workers are well separated from traffic. Professions requiring ANSI Class 1 garments include:
Parking attendants

Delivery drivers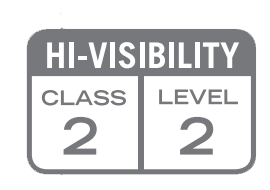 CLASS 2 GARMENTS
ANSI Class 2 safety vests and garments are intended for use in activities where greater visibility is necessary during inclement weather conditions or in work environments with risks that exceed those for Class 1. Garments in this class also cover workers who perform tasks that divert their attention from approaching traffic, or that put them in close proximity to passing vehicles traveling at 25 mph or higher. Professions requiring ANSI Class 2 garments include:
Forestry operations

Ship cargo loading operations

Roadway construction

Utility and railway workers

School crossing guards
Delivery vehicle drivers

High-volume parking and toll gate personnel

Airport baggage and handlers / ground crew

Emergency response and law enforcement

Trash collection and recycling operations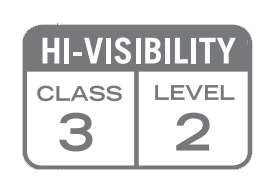 CLASS 3 GARMENTS
AANSI Class 3 garments provide the highest level of visibility, and are intended for workers who face serious hazards, such as nighttime work, and often have high task loads that require attention away from approaching vehicle traffic. Garments for these workers should provide enhanced visibility to more of the body, such as arms and legs. Professions requiring ANSI Class 3 rated workwear include:
Roadway construction personnel and flaggers

Utility workers
Survey crews

Emergency response personnel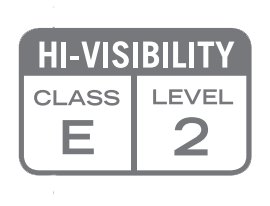 CLASS E GARMENTS
Class E Garments, including waistband trousers, bib overalls and shorts, are not intended to be worn without Performance Class 2 or 3 apparel that meet all minimum requirements for retro-reflective and background materials, except for minimum area and placement required for Performance Class 3, 2 or 1 shall be designated Class E. Class E apparel is not intended to be worn without Performance Class 2 or 3 apparel. When Class E trousers are worn with Performance Class 2 or Class 3 apparel, the overall classification for the ensemble shall be Performance Class 3.
At the end of the day, the safety of your employees is top priority. By meeting ANSI safety standards and supplying the right hi-visibility workwear for your workers, you can feel confident everyone in harm's way are as visible and as safe as possible. Red Kap offers a expansive line of both Hi Visibility and Enhanced Visibility workwear. If you'd like to speak with one of our uniform experts about outfitting your team, Contact Us!