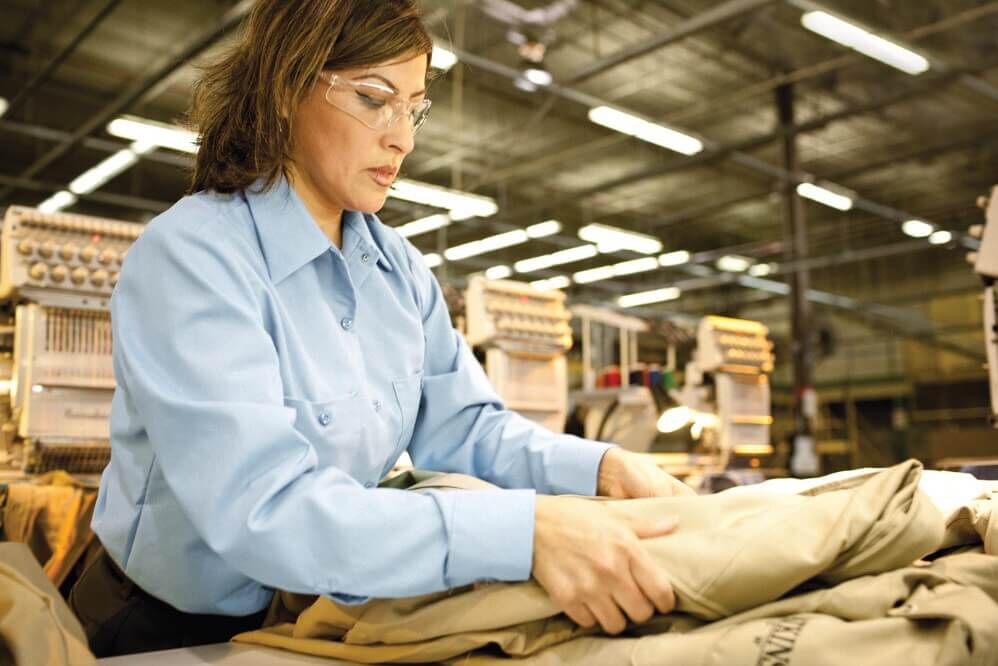 More women workers = a better economy. According to the Washington Center for Equitable Growth, when more women are in the workforce, economies tend to grow more than when they are not. Across continents, there's a direct correlation between the women's labor force participation and gross domestic product (GDP), which is a sign of economic health.
Women play an important role across all types of industries as well. From healthcare and hospitality to maintenance and construction, women make up almost half of today's U.S. workforce while contributing innovation, leadership, and outstanding service in the industries they work in.
Here's a look at how women have played a role in the American workforce throughout time, as well as some of the policies put in place to move our workforce toward equality for all genders.
Working Women in the 18th and 19th Centuries
In the 18th and 19th centuries, women were critical to their families' economic well-being. They actively participated in making and growing the products their families sold or bartered.
At home in the 1700s, women's work included cooking, cleaning, weaving and sewing cloth, spinning yarn, and taking care of children, animals, and gardens. Women also worked in fields and took over farm management when their husbands were away for long periods of time.
Unfortunately, many women who worked in America during the 1600s to the mid-1800s were also enslaved or worked as indentured servants, including Native Americans and women who came from Africa and Europe.
After the American Revolution and into the early 19th century, the role of educating children was often the mother's duty. During this time, wives of men who were at war or traveling on business, as well as widows, often managed plantations and large farms in addition to caring for their children.
After the Industrial Revolution in the U.S. in the mid-1800s, some women went to work in factories alongside their families, sometimes with their children. In 1840, 10% of women had jobs outside the home, and by 1850 that number increased to 15%.
In 1895, "The American Woman's Magazine and Business Journal" was created, to advocate for work for women whose time wasn't occupied by household duties.
Women in the Workforce: 1900-1900s
From the late 19th century to the 1920s, the majority of women in the workforce were poor, uneducated single women working as employees in people's homes or as piece workers in manufacturing. In the 1910s, more women entered clerical and teaching professions.
Before World War I, 75% of all women employed in manufacturing were making apparel or apparel materials, tobacco products, or food. During World War I from 1914-1918, the number of women in the manufacturing industry greatly increased, with women working in domestic and personal service occupations, factory work, and clerical occupations.
In 1918, the Women in Industry first published the "Standards for the Employment of Women in Industry," which were created with advice from workers and employers and eventually incorporated into state and federal labor laws. The standards were republished several times through to 1965.
1920s-1930s: The Creation of the Women's Bureau
On June 5, 1920, the U.S. Department of Labor established the Women's Bureau. The Women's Bureau promoted the welfare of working women and created standards and policies to improve working conditions for women and to advance their opportunities for profitable employment. In 1920, women made up about 20% of the labor force.
In the 1920s and 1930s, women worked in occupations and industries such as bookkeeping, canning, cotton mills, laundries, department stores, office clerks, tobacco stemmeries and stenography.
In 1938, the Fair Labor Standards Act (FLSA) was enacted. The FLSA contained a statement that with fixing wage orders, "No classification shall be made under this section on the basis of age or sex."
1940s-1950s: World War II & Wider Variety of Work
From the 1930s to 1950s, more married women entered the workforce. In 1890, only 8% of employed women were married. In 1930, 26% of employed women were married, and by 1950, 47% of employed women were married.
In the 1940s, women were employed in war industries for World War II in areas such as aircraft production, army supply depots, foundries and shipyards.
In the postwar era, around 35% of women participated in the workforce and were employed in both part-time and full-time work in industries including mathematics, science, legal and health services.
As women had become an essential, reliable source of employment for a variety of industries during war times, they continued to work and increase their presence in the workforce after the world wars were over.
1960s: Equal Pay Act & Child Care Developments
The Equal Pay Act of 1963 was passed to prohibit wage discrimination based on sex by employers engaged in commerce or in production of goods for commerce.
In the 1960s, the Department of Labor established a demonstration child care center for children of low-income DOL employees. Later, the DOL became the first federal agency to have an on-site day care.
1970s-1980s: Increased Training for Women Workers
In 1973, the Comprehensive Employment and Training Act (CETA) was passed to provide job training to economically disadvantaged, underemployed, and unemployed persons. With the passing of CETA, more women, especially low-income and young women, could participate in pre-apprenticeship training and job development programs.
In the 1980s, the Women's Bureau promoted employer-sponsored child care and child care services at occupational training center sites. The Job Training Partnership Act of 1982 replaced CETA and was a federally funded program providing training and employment services to disadvantaged youth and adults, older workers, and displaced workers.
The 1970s all the way up to the early 2000s saw a rise in the percentage of women of childbearing age with a child under the age of 1 in the workforce. The number has increased from 20% in the 1970s to 62% in the 2000s. The increased prevalence of developments like employer-sponsored day care and paid family leave help moms who want to continue to work after having a kid.
1990s-2000: Women in Skilled Trades & the Family and Medical Leave Act
In 1992, the Women in Apprenticeship & Nontraditional Occupations Act (WANTO) was passed. WANTO is the Department of Labor's main program for training women for nontraditional occupations, like technical and engineering jobs and skilled trades in manufacturing and automotive technician work. In 2019, WANTO awarded $1.49 million to three community-based organizations to increase female employment in nontraditional occupations and apprenticeship programs.
In 1993, the Family and Medical Leave Act was passed, granting temporary and family medical leave under certain circumstances, such as the birth or adoption of a child and for the care of a child, spouse, or parent who has a serious health condition. The purpose of the Family and Medical Leave Act of 1993 was to balance the demands of family with the workplace and to promote the goal of equal employment opportunity for women and men.
2000s: Continued Work Toward Female Equality in the Workplace
In the 2000s, the Women's Bureau promoted initiatives such as:
• Women with Disabilities Entrepreneurship
• Working Women in Transition
• Girls E-Mentoring in Science
• Engineering, and Technology (GEM-SET)
• an Employer-Driven Older Women Workers project
•Group E-Mentoring in Nursing (GEM-Nursing).
The Lilly Ledbetter Fair Pay Act of 2009 restored the law interpretation that a pay discrimination claim accrues when a discriminatory pay practice or decision is adopted, or when an employee experiences such a practice.
In 2010, the National Equal Enforcement Task Force was created, focusing on combating equal pay law violations by bringing together the Department of Justice, the Department of Labor, and the Equal Employment Opportunity Commission.
There's Still Much Progress to Be Made for Women in the Workforce
Today, women make up about 47% of the U.S. Labor force, and 57% of all women participate in the labor force, the U.S. Bureau of Labor Statistics reports. In 2020 and beyond, there are still gains to be made for women in the workforce. For example, the Brookings Institution reports women's labor force participation has been declining from 60.7 percent in 2000 to 57.2 percent in 2016.
There's also still a significant gender wage gap. The Center for American Progress reports according to the most recent Census Bureau data, in 2018, women of all races earned an average of $0.82 to every $1 men of all races earned. Nearly 60% of women would earn more if they received the same wages as men with the same work hours and levels of education.
Women are also currently underrepresented in senior leadership roles. According to McKinsey's Women in the Workplace 2019 report, women in the C-suite grew from just 17% in 2015 to still only 21% in 2019.
Despite the progress that still needs to happen, there are also unique opportunities for tradeswomen. For example, the Women in manufacturing 2017 study found there were 6 out of 10 positions open due to a gap in manufacturing skills. Women in skilled trades in industries like manufacturing, automotive, and transportation are underrepresented and have the potential to enter these markets that are experiencing labor shortages to grow meaningful careers.
There are also more organizations than ever before dedicated to advancing gender equality in the workplace. If you're interested in joining a cause that focuses on women in the workplace, check out organizations like 9to5, the Coalition of Labor Union Women, and the National Partnership for Women & Families.
Red Kap salutes all the hardworking women who roll up their sleeves, get the job done, and continue to push for equality for future generations of women. Our Women's Workwear is designed to hold up to the toughest jobs while keeping you cool and comfortable. Take a look at our entire selection of shirts and pants for all types of women's work uniforms.